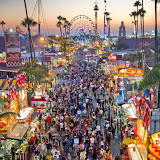 What would a summer be without our County Fair at the Del Mar Fairgrounds. Gudi's Aromatherapy is happy to help you find the wonderfully pure European Essential Oils, all natural Skin and Body Care and our European style Essential Oil based First Aid Remedies. Find out what sets us apart and how our certified Aromatherapists, (established in the San Diego County) carefully select the purest, most wonderful oils available. We source our oils from all over the world, from the regions that the plants are native to,  to ensure the potency and healing benefits of each of the oils.
Find us in the Exhibit Hall (by the bungee jump and the fair foods), Booth # 4254
Where the West Is Fun!
There's a new sheriff in town and it's You, partner. Grab your cowboy hat, pull on your boots, and ride on over to this year's San Diego County Fair as we celebrate the legendary rough-and-tumble Wild, Wild West.
Concert line-up: https://sdfair.com/what-to-see/?fwp_events_categories=concerts
Fair Dates and times: https://sdfair.com/plan-your-visit/dates-times/